Outstation Cab & Taxi Services
Deals for Outstation Taxi Fares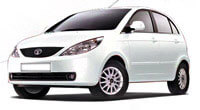 Tata - Indica Vista or Similar (Budget)
4 + 1 Seats
2 Bags
A.C.
10.5 /KM
Fare Breakup
Distance Charges :

[300 KM x ₹10.5/KM]

₹3,150

Chauffeur Day Allowance :

[₹250 x 1]

₹250

Base Fare :

₹3,400

GST (@ 5%):

₹170

Total Fare :

₹3,570
Inclusions
Per KM Charge :

₹10.5 / KM

Min. Billable KM /Day:

300 KM

Distance Included :

[300 KM x 1 Day(s)]

300 KM

Duration :

1 Day(s)
Exclusions
Extra KM beyond

300 KM

=₹10.5/KM

Chauffeur Night Allowance (10:00 PM - 05:00 AM)

₹ 200

Tolls Tax, Inter State Tax & Parking Charges are payable by guest as per actual ( if applicable)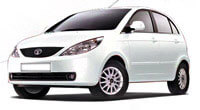 Tata - Indica Vista or Similar (Budget)
4 + 1 Seats
2 Bags
A.C.
11 /KM
Fare Breakup
Distance Charges :

[300 KM x ₹11/KM]

₹3,300

Chauffeur Day Allowance :

[₹300 x 1]

₹300

Base Fare :

₹3,600

GST (@ 5%):

₹180

Total Fare :

₹3,780
Inclusions
Per KM Charge :

₹11 / KM

Min. Billable KM /Day:

300 KM

Distance Included :

[300 KM x 1 Day(s)]

300 KM

Duration :

1 Day(s)
Exclusions
Extra KM beyond

300 KM

=₹11/KM

Chauffeur Night Allowance (10:00 PM - 05:00 AM)

₹ 200

Tolls Tax, Inter State Tax & Parking Charges are payable by guest as per actual ( if applicable)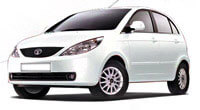 Tata - Indica Vista or Similar (Budget)
4 + 1 Seats
2 Bags
A.C.
10.5 /KM
Fare Breakup
Distance Charges :

[444 KM x ₹10.5/KM]

₹4,662

Chauffeur Day Allowance :

[₹250 x 1]

₹250

Base Fare :

₹4,912

GST (@ 5%):

₹246

Total Fare :

₹5,158
Inclusions
Per KM Charge :

₹10.5 / KM

Min. Billable KM /Day:

250 KM

Distance Included :

444 KM

Duration :

1 Day(s)
Exclusions
Extra KM beyond

444 KM

Chauffeur Night Allowance (10:00 PM - 05:00 AM)

₹ 200

Tolls Tax, Inter State Tax & Parking Charges are payable by guest as per actual ( if applicable)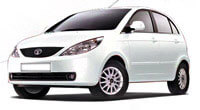 Tata - Indica Vista or Similar (Budget)
4 + 1 Seats
2 Bags
A.C.
10 /KM
Fare Breakup
Distance Charges :

[484 KM x ₹10/KM]

₹4,840

Chauffeur Day Allowance :

[₹300 x 1]

₹300

Base Fare :

₹5,140

GST (@ 5%):

₹257

Total Fare :

₹5,397
Inclusions
Per KM Charge :

₹10 / KM

Min. Billable KM /Day:

250 KM

Distance Included :

484 KM

Duration :

1 Day(s)
Exclusions
Extra KM beyond

484 KM

Chauffeur Night Allowance (10:00 PM - 05:00 AM)

₹ 150

Tolls Tax, Inter State Tax & Parking Charges are payable by guest as per actual ( if applicable)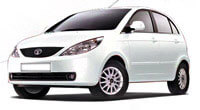 Tata - Indica Vista or Similar (Budget)
4 + 1 Seats
2 Bags
A.C.
10.5 /KM
Fare Breakup
Distance Charges :

[466 KM x ₹10.5/KM]

₹4,893

Chauffeur Day Allowance :

[₹250 x 1]

₹250

Base Fare :

₹5,143

GST (@ 5%):

₹257

Total Fare :

₹5,400
Inclusions
Per KM Charge :

₹10.5 / KM

Min. Billable KM /Day:

250 KM

Distance Included :

466 KM

Duration :

1 Day(s)
Exclusions
Extra KM beyond

466 KM

Chauffeur Night Allowance (10:00 PM - 05:00 AM)

₹ 200

Tolls Tax, Inter State Tax & Parking Charges are payable by guest as per actual ( if applicable)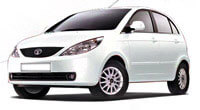 Tata - Indica Vista or Similar (Budget)
4 + 1 Seats
2 Bags
A.C.
10.5 /KM
Fare Breakup
Distance Charges :

[492 KM x ₹10.5/KM]

₹5,166

Chauffeur Day Allowance :

[₹250 x 1]

₹250

Base Fare :

₹5,416

GST (@ 5%):

₹271

Total Fare :

₹5,687
Inclusions
Per KM Charge :

₹10.5 / KM

Min. Billable KM /Day:

250 KM

Distance Included :

492 KM

Duration :

1 Day(s)
Exclusions
Extra KM beyond

492 KM

Chauffeur Night Allowance (10:00 PM - 05:00 AM)

₹ 200

Tolls Tax, Inter State Tax & Parking Charges are payable by guest as per actual ( if applicable)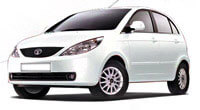 Tata - Indica Vista or Similar (Budget)
4 + 1 Seats
2 Bags
A.C.
10.5 /KM
Fare Breakup
Distance Charges :

[562 KM x ₹10.5/KM]

₹5,901

Chauffeur Day Allowance :

[₹250 x 1]

₹250

Base Fare :

₹6,151

GST (@ 5%):

₹308

Total Fare :

₹6,459
Inclusions
Per KM Charge :

₹10.5 / KM

Min. Billable KM /Day:

250 KM

Distance Included :

562 KM

Duration :

1 Day(s)
Exclusions
Extra KM beyond

562 KM

Chauffeur Night Allowance (10:00 PM - 05:00 AM)

₹ 200

Tolls Tax, Inter State Tax & Parking Charges are payable by guest as per actual ( if applicable)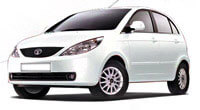 Tata - Indica Vista or Similar (Budget)
4 + 1 Seats
2 Bags
A.C.
11 /KM
Fare Breakup
Distance Charges :

[632 KM x ₹11/KM]

₹6,952

Chauffeur Day Allowance :

[₹250 x 1]

₹250

Base Fare :

₹7,202

GST (@ 5%):

₹360

Total Fare :

₹7,562
Inclusions
Per KM Charge :

₹11 / KM

Min. Billable KM /Day:

250 KM

Distance Included :

632 KM

Duration :

1 Day(s)
Exclusions
Extra KM beyond

632 KM

Chauffeur Night Allowance (10:00 PM - 05:00 AM)

₹ 200

Tolls Tax, Inter State Tax & Parking Charges are payable by guest as per actual ( if applicable)
Outstation Car Rental Services
Looking for a reliable outstation taxi service provider? Experience tells us that customers are often picky about safety, reliability, comfort and affordability when booking a taxi for an outstation trip. Therefore, it is not easy to choose a car rental provider without conducting some background research.
From years of experience in the car rental business, we at HireMeCar have mastered the art of ensuring safety, reliability, comfort and affordability for our customers on every trip. While our friendly chauffeurs try their best to keep your smile on throughout the outstation trip, our technical experts are on the job round the clock to thoroughly inspect our fleet prior to the journey to avoid last-minute or mid-way breakdowns.
Our car rental services are tailored to suit your individual needs. Whether booking an outstation taxi for a business trip, to visit your parents, attend a friend's wedding, or head out on the highway over the weekend, HireMeCar has a wide range of luxury, sports, and economy vehicles to meet every car rental need. Based on your baggage, group size, and comfort needs, you can choose your pick from our fleet of Limousine, Audi, Mercedes, BMW, Indica, Ertiga, Etios, Dezire, Vento, Innova, Scorpio and more.
At HireMeCar, we are committed to making your road trips more enjoyable than ever while ensuring value for the money you spend in car hire. What's more, you can trust us for stress-free car rental bookings because we are available to take your calls 24X7.
HireMeCar also offers car reservations exclusively for airport and rail transfers in all major cities across India. Our services include self-drive and chauffeur-drive cars.
Price
Best Price Guarantee
Quality
Well Maintained Fleet
Service
24x7 Customer Care
Popular Outstaion Routes: